On April 5, 2022 German authorities have announced seizure of Hydra servers, as well as crypto-funds identified during special operation.
The police were also able to seize 543 bitcoins from the profits of Hydra, which are currently worth a little over $25 million. It's remarkable, that Hydra has processed more than $3.2B since its launch in 2015. Hydra market counted around 19,000 registered seller accounts that served at least 17 million customers around the world.
Official announcement released by German authorities has very fast spread and reached media's top news .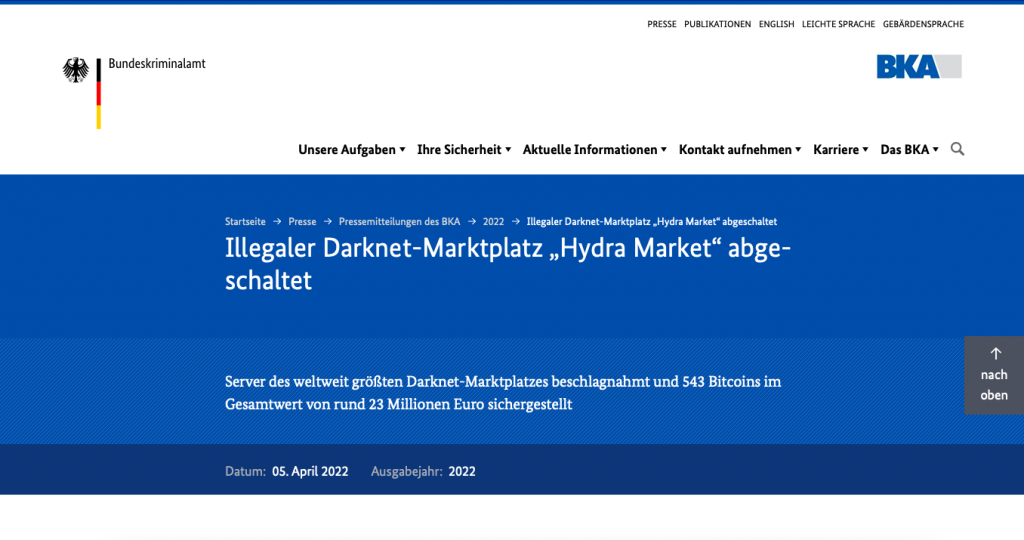 the Central Office for Combating Cybercrime (ZIT) and Germany's Federal Criminal Police Office (BKA) estimate that Hydra Market had a turnover of $1.35 billion in 2020 alone, making it the largest darknet market in the world.
Apart from narcotics and money laundering services, which were the main focus, Hydra also offered stolen databases, forged documents, and hacking for hire services.
Kaduu Team is happy with the news, we are looking forward to more special operations taking place, that would regulate darknet and disallow trade of illegal items, including sensitive data, vulnerabilities, companies' internal documents and databases.